A Study on the Development of One IP(intellectual property)  Animation & Game in Chinese Market
Pan Yang ,Chul-Young Choi
Department of Visual Contents,Division of Digital Contents
Graduate School of Dongseo University,Dongseo University
Busan,South Korea
pyy8976341@naver.com, freechoi@hotmail.com
Abstract
"No IP, No Content" has become a phenomenon in the content industry, high-quality IP has a strategic importance. It has become a Trinity in the movie-anime-game basic package, Competition is more intense. However, there is a tremendous amount of know-how hidden behind the use of IP to operate games well. We are worth exploring in detail.
Keywords- Chinese Market, Digital IP, Derivative product.
1. The Value of IP
High quality IP can bring a lot of users in the early stages. This saves on promotional costs. The conversion rate is affected by 3 to 7 times and the income is also doubled.
First, you can see the game world faster through IP. Whether the game is fun or not depends on whether the world view of construction is complete, IP generally has a complete and logical world view.
Second, IP reduces user learning costs. With IP, players can become accustomed to the product as quickly as possible. Increase user loyalty by making game characters more recognizable and increasing game substitution and input sensation.
Third, IP brings tricks to attract fans. IP can provide a good publicity effect. Not only can you drag the original IP punk, you can distinguish it from regular games.
Fourth, the dual effects of fans and famous writers, the ability to pay more money
The fans who pay for the contents of the novel are all big fans of the novel, and the possibility of payment is bigger than that of ordinary players.
Fifth, your work has been verified by the market and you can easily target the target group. - Young users
Serial novels have been identified in markets with small risks. And IP awareness can increase the import efficiency of new users. In addition, the Chinese online literature reflects young people's desires as much as possible and overlaps with the audience of the game.
Sixth, emphasis on channel.
Games are IP standard already, if there is no IP in the game, there is no channel interest or recommended seats.
2. Animation industry in China, USA and Japan
2.1 Current Status of the American Animation Industry
The development of the American animation industry is heavily influenced by Hollywood development models, so the next example is Disney.
Disney's main business segment
| | | |
| --- | --- | --- |
| Department | Revenue | Profit |
| Radio and Television Media Group | 20,356 | 6,818 |
| Theme parks and resorts | 14,087 | 2,220 |
| Film and Television Entertainment Group | 5,979 | 661 |
| Consumer product division | 3,555 | 1,112 |
| Interactive media department | 1,064 | -87 |
| total | 45,041 | 10,724 |
Disney Financial Data(2013)Unit: million dollars
Four of Disney's five divisions account for 90% of its revenue. Of which $ 20 billion in revenue from broadcast and television media groups. Disney's classic cartoon images and many movies are well known to us, but their contribution to the sales and profit ratio is only 13.3% and 6.2%. On the other hand, the advertising and copyright of Disneyland, Disney-approved clothing, food and media networks have been derived from various industries to maximize the value of the animation industry. Disney's business philosophy is to use brand-based content as a reader to produce home movies for all ages. Family watching can target audiences of higher ages and there is room for expansion in late derivatives development.
2.2 Current Status of the Japanese Animation Industry
Since the development of animation in Japan has been almost one century, the animation has already developed into the three major industries in Japan, and the GDP has exceeded about 10%. As an example of development, the mode of operation of the Japanese animation market has been completed through long- The country that develops around other animation industries is also of great value.






2.3 Current Status of the Chinese Animation Industry
Comparing the US and Japanese industrial models: All derivative products are derived from animated content. This includes derivatives of other industries as well as derivatives of animated characters and plot lines. The classic animation brand, itself has the characteristics of industrial chain expansion. Referring to China's animation derivatives market, we have seen inferior toys, but now we are laying out many excellent animation industries derivative industrial layouts. "The Legend Of Qin", for example, has developed these animated works for many years, has a very good industrial layout.

As you can see, "The Legend of Qin" not only developed live TV dramas on numerous TV animations, large movies, movies and TVs, but also developed the same names, books and audio games, and the products we saw around. Likewise, by expanding the content of the animated film, The Legend of Qin's monthly biography series produced not only seven, but also produced a variety of formats such as prequel, movie versions and extras.
3. Current Status of Animation & Game Derivatives in China
  Derivatives are secondary sales of animated products downstream of the animation industry chain. Figures, toys, clothing, stationery, and handicrafts. Currently, the animation derivative market is a pillar of the animation industry, and it is the key to excessive profitability of the animation content brand and the driving force of the re-creation of the original animation.

According to the development trend of the animation industry and how to realize it, China has already started to operate the operating mechanism of the industrial chain of animation integration. It is usually divided into three levels: IP core layer, intermediate development layer, and surrounding derived layer.


  The IP core layer mainly includes two aspects, cartoon and literary creation. The IP core layer brings together a lot of writers and comic novelists, and the number of works is enormous, so you can easily get the best quality plot and get a high quality original IP. IP is a source of industry chain, It directly affects ability.
The middle development layer is mainly the development of animated IP including movies, TV series, animated video and other works. While this market is modest, film and television animations can have strong communication effects, expand IP influence, accumulate users, and foster an excellent user market.
The surrounding derivative products are based on the second development of IP such as game production, animation toys, animation clothes, animated stationery, theme parks, etc. to achieve commercial profitability mainly through IP license development and direct contact with consumers.
4. Chinese market popular same IP game & animation work statistics
| | | | | | | | | | |
| --- | --- | --- | --- | --- | --- | --- | --- | --- | --- |
| | The Legend of Qin | Azur Lane | Onmyoji | Fantasy Westward Journey | I'm MT | Fate/Grand Order | Final Fantasy | Blade & Soul | Revelation |
| Game production company | Fuchun Technology (CN) | bilibili(CN) | Netease(CN) | Netease(CN) | LOCOJOY(CN) | TYPE-MOON(JP) | SQUARE ENIX(JP) | NCsoft(KR) | Netease(CN) |
| Game Distribution Company (CN) | Beijing Chukong Technology (CN) | Bilibili(CN) | Netease(CN) | Netease(CN) | locojoy (CN) | bilibili(CN) | SQUARE ENIX(JP) | Tencent(CN) | Netease(CN) |
| Animation production company | Sparkly Key Animation Studio(CN) | Bibury Animation Studio(JP) | Thundray Technology (CN)&BLADE(JP) | Bluearc Animation Studios (CN) | Colorful cinema studio (CN) | TYPE-MOON(JP) | SQUARE ENIX(JP) | GONZO(JP) | Sparkly Key Animation Studio(CN) |
| Animation type | 3D CG movie / 3D animation | 3D animation | 3D animation | 3D animation | 3D animation | 3D animation | 3D CG movie / 3D animation | 3D animation | 3D animation |
| Game type | Mobile game/web game | Mobile game | Mobile game | PC online game/Mobile game | Mobile game | Mobile game | Mobile/PC/Platform Game | Mobile game/ PC online game | PC online game |
| Other digital industries | TV drama | | Movie | TV drama | 3D CG movie | | | | |
The online gaming industry has grown at a CAGR of 21.7% over the past five years.
In 2016, sales reached 16.57 billion yuan (17.7%), of which the mobile game market sales were 81.92 billion yuan (59.2%), accounting for 49.5% for the first time in the client game market. PC game market sales reached 582.5 billion yuan %) Negative growth for the first time. The number of Chinese game users reached 566 million (+ 5.9%).
In 2017, the Chinese gaming market recorded 178.92 billion yuan, 480 million PC gamers and 520 million mobile game users.
In 2017, China's animation industry reached 150 billion, accounting for 24% of the total output of the cultural and entertainment industry.
Games, animations and movies have become the backbone of the Chinese cultural entertainment industry jointly.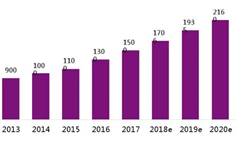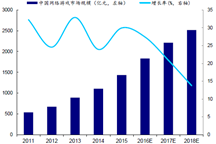 Chinese animation market output (Left side) Chinese game market output (Right side) Unit: 100 million yuan (RMB)
5. Analysis
  Market research and analysis reveals the importance of IP in all areas of the digital multimedia industry, and it is important to have and use one or more superior IPs for the success of related products. Whether it's an animation or a game as IP grows, it's the most important means of carrying IP. It is to notify the public through animations and games. After intent to write to it, you can get unexpected revenue and development if you have many of the same IP products.
The creation of the initial IP is more economical and convenient than the production of the latter, either by creating more than one priority IP, by popular IP and investment cooperation, or by setting up an IP for sufficient preliminary market research and product line use Will produce relevant multimedia industries to obtain more economically stable results.
It can also be reused for existing high quality IPs. In pursuit of collaboration and innovation, more derivatives can be promoted in the Golden Age of Series IP to maximize the value of a single IP.
For small and medium-sized manufacturers, there are two problems in developing animation derivatives: capital pressure and resource constraints. On the other hand, small and medium-sized manufacturers with limited capabilities should consider urging investors to "make a realization cycle" and realize the fastest way to realize cash, accelerate the collection of funds through approvals and cooperation, You must choose. In addition, head manufacturers, media monopoly of traffic, lack of resources, SMEs can not find the right entrance and marketing can not go smoothly.
Large companies such as Blizzard, Tencent, and Aofei have already built marketing systems for animation derivatives, but they are mostly online. The marketing of offline scenes is often hampered by the limitations of inter-industry resources and internal coordination. For years, most large companies have chosen the form of "outsourcing agency."
Increased consumer spending and the emergence of a new middle class have begun to increase the number of offline entertainment scenes and word of mouth promotions.
6. Conclusion
The Chinese market and China's export market research show that the future development space of IP suitable for China market is enormous. Studying advanced technologies and mature systems in the US, Japan and Korea, cultivate talent, learn traditional culture, perform bold and unique innovation activities, develop IP with cultural characteristics of China, develop new digital content market in China And promote Chinese culture.
References
[1] China Online Animation Market White Paper . 2017. P 4-32.
[2] Animation game listed company financial performance report. 2016 . p 6-42.
[3] China's online game industry development trend and market size forecast. 2017.
[4] Animation Industry Investment Analysis Report.2016. p 13-43.
[5] Annual report on animation and game industry in China. 2016. Yushan Wei. China Book Publishing House.
[6] Interaction and integration between animated films and digital games. 2017 . Huan Chen . Renmin University of China Publication Database. P 12-16.